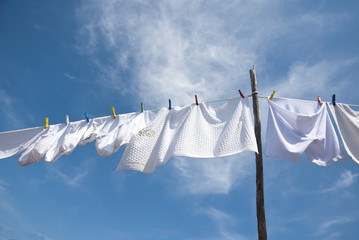 The Grandmother in this story is Martha Smith Phillips. She was born in 1877 in Tama County, Iowa. Her family moved to the Black Hills in the 1880's and she worked in a laundry for a short time in Riverdale, Wyoming before marrying Alexander Phillips. She passed away in 1973.
Grandma's Wash Tubs 
By Iva Bailey
When I go to do my wash in these days of automatic washer and dryers, I think of my Grandma Phillip's wash tubs. They were two big galvanized tubs, one for washing the other for rinsing. They sat side by side on a bench in the kitchen close to the wood range, where the water was heated in a wash boiler.
In my earliest memories the tubs had to be filled from the water heated on the stove. Later coils were put in the stove and a tall range boiler or tank,as we called it, stood in the corner and was connected  to the coils in the stove. Grandma thought then, that she was special to have such a luxury.
Grandma always washed on Monday. The clothes were scrubbed on a wash board. If they were really dirty they were then boiled on the stove in the boiler after which they were put in a tub of bluing water to rinse.
Grandma liked windy days to wash clothes.The wind would blow them dry faster and they would smell fresh.They were hung on the line with round-top peg clothespins.They didn't have the spring kind until later. They were better because they wouldn't fall off the line. The whites were always as white as snow waving in the breeze.
Tuesday was ironing day. She never put off ironing like I do when I wash clothes in my automatic washing machine. It is so easy to put it off, I hate to iron. Grandma liked to iron. She had two flat irons she heated up on the stove. She always tested it with a wet finger. If it sizzled it was just right for ironing. She ironed with one a while then, the other heated one. She especially liked doing up, as she called it, the white men's shirts. She had worked in a laundry in South Dakota in her earlier days and was never happier than when she was ironing.
Grandma also used her tubs for baths before bath tubs. She also used them for canning fruits and vegetables. The jars were washed and sterilized, filled and cooked in the jars. I remember green beans always took a long time. It was a hot job in the heat of the sun and the heat of the stove.
Grandma Phillips lived to be ninety-six and before her life ended, she had some of the conviences of modern-day, but I think the happiest days were the days she would hang her sparkling white clothes on the line to dry.