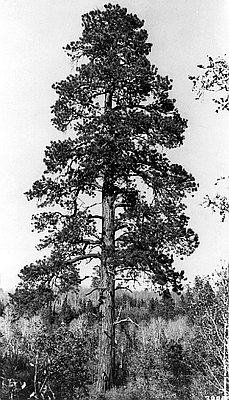 Here is another logging camp story written by my Aunt about her family's move to Kinzou, Oregon. Today it is considered a ghost town. It existed as a company town from 1927 until 1978.
An Unforgettable Experience
by Iva Bailey
One day in the summer of 1928 our family, my dad, my mother, my brother and my-self set out on a trip to Oregon. Our destination was a new logging camp opening up in the Blue Mountains near Condon, at least this was the largest town I can remember near the camp.
My mother had asthma and the doctor had told daddy that a high dry climate might help her, and Kinzou was that.
My dad had been preparing for this trip all winter. He had built a cupboard that fit on the running board of our model T Ford. In this cupboard, my mother put all the staples we would need in our long camp-out on the way to Oregon.
To us this was a long trip, as most of our trips up until then had been to logging camps surrounding the Puyallup Valley.
My mother had made us blouses and skirts out of some kind of khaki colored material that would not show the dirt, because it would be hard to wash clothes on the road. I can remember those clothes so well. They weren't very glamorous but they were serviceable. We had a new tent and daddy had made us beds out of canvas that he set up on blocks of wood we would pick up after we got there. They rolled up so they wouldn't take up much room. I can't remember too much about how they were made and I can't remember being uncomfortable.
We started out from Puyallup one morning right after school was out so it must have been in early June. We went as far as Winlock, Washington which is probably about 60 miles from Puyallup. We had friends who lived there so we stayed over-night with them.
The next night I remember we stayed in Vancouver, Washington. We weren't traveling very fast but with our model T and the load we had that was fast. I can remember going through Portland. This was the first time I had been out of the state of Washington and going across the Columbia river into Portland, Oregon was something to see. The Columbia river was quite a bit larger than the Puyallup river where we lived.
We must have camped at several places before we finally got to Condon. I can remember Condon though because the trees and everything were so different from the ones we had around Puyallup. It was very hot and dusty.
In Condon daddy bought us a little stove. He hadn't wanted to carry one all the way from Puyallup and take up our precious space in the car. We bought the food supplies we would need before we went up into the hills to the camp.
The road up to the camp was narrow and rough. If we didn't stay in the tire tracks we would get stuck in the sand. I can remember one place on the road in particular because it scared me to death every time we went on it.
The model T was really quite top-heavy with our cupboard on the side of the car filled with staples and all our other gear. This place in the road slanted into a canyon. We would have to all get on the other side of the car to keep the car from going down into the canyon.
We finally got to the camp and looked around for a place to set up for the summer.
Daddy had told me there would be rattle snakes there so I was looking for them, I sure didn't want him setting our tent up on a snake. I can't really remember seeing one but I imagined a lot.
This was a new camp and they were still building. My dad got a job unloading bricks from a rail road box car. It was a hard job but my dad being a logger was use to hard work.
I can't remember to many things that happened in particular while we were there but there were a few unforgettable experiences.
There was a mill-pond where they dumped the logs they brought out of the woods. It was hot there and the people, especially the kids, would swim in the pond. Verle, my brother and I couldn't swim but were allowed to wade close to the shore. On this day Verle went too far out and was climbing on a log when it rolled. He went under the log and I started screaming. There was a man close by and he pulled him out. I was sure scared and watched him a lot closer after that.
I can remember another day when dad decided we would go into town for some supplies. There was a company store in the camp but the prices were higher than they were in town, and you didn't have much choice. I never really looked forward to those trips into town because of that road.
It was a very hot day this time. We hadn't gone very far when we had a flat tire. We had a spare one but the tube had patches on it. It was so hot the patches would melt off and we would be flat again. Dad patched the tube all the way into town.
We finally got there and bought a new tube before the return trip. I had taken us so long to get there, dad was afraid it would get dark before we could get back to camp. He had heard they were building a new road that would be a short-cut back. He figured it might be finished enough for us to get back so he decided to try it. It went a long ways but not far enough. We came to the end. It was very narrow road with a canyon on both sides and absolutely no way to turn around.
Dad made us all get out and he backed all the way out while we walked. Needless to say it was dark when we got back to camp. I never was so scared in my life. There were no street lights out there in those woods and I knew what was just off that road. It was a deep canyon. To this day I have a fear of narrow roads and I think it all began that day.
We stayed in the camp about two months. Dad worked in the mill and filed saws for the loggers. My mother didn't seem to be getting any better in fact she was having all kinds of problems. Dad decided we had better leave and get back to civilization where there were doctors.
The day we left was so hot and my mother was so sick, I will never forget it. We went to Toppenish, Washington. Toppenish is close to Yakima. She had relations there.
We stayed there the rest of summer and daddy worked in a prune orchard. My mother was better there and she was happier with relations. We went back home in time for school it was a summer I will never forget.